We are a Duro-Last Elite contractor. Duro-Last membrane roofing is a proprietary, thermoplastic single ply membrane that is fabricated in sizes up to 2,500 square feet and installed fully adhered or with mechanical fasteners. It provides a guaranteed, high reflectance leak-free membrane roof that will satisfy the most exacting architect, engineer, and general contractor.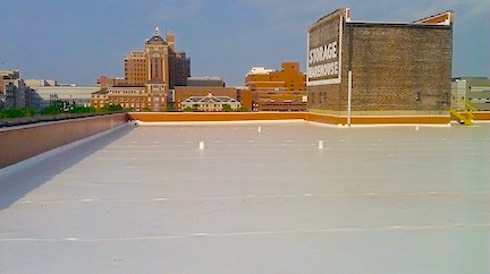 Your Duro-Last roof meets all wind and fire code requirements, is Energy Star rated, approved by the International Code Council (ICC), and rated by Underwriters' Laboratory (UL). Whether it's a new construction or an existing building that needs a new roof, we will install a pre-engineered and pre-fabricated roof membrane with components that have been specifically designed for your building. Our custom roof membranes include all flashings and seals. Installation is quick, requires very little on-site adaptation, and, in some cases, can even be installed on your existing roof. That means very little, if any, disruption to your business operations.
Every roof is manufactured to precise size in our controlled factory environment. This eliminates up to 85% of rooftop seaming and ensures an excellent installation, delivering long-term, worry-free, leak-proof protection. The Duro-Last roofing system is resistant to fire, chemicals, grease, high winds, punctures, and easily accommodates wide temperature extremes.
The white membrane is rated by the EPA's Energy Star® Roof Products Program, and has the highest retained reflectivity of any single-ply membrane. It saves significant energy and money for facilities of all types.
Installation of Duro-Last is quiet, without loud machinery, hazardous materials, noxious fumes, hot tar, or mess. This type of roof can often be installed over an existing roof without an expensive tear-off. Installation also includes integration of all the related building components. We custom form all metal components in our own shop so gutters, downspouts or leaders, penetration flashings, and parapet systems will fit perfectly on your building without costly on-site modifications.
There are times when specs call for something other than a single ply membrane roof, so we also install modified bitumen roofs using Derbigum modified bitumen products. It has a 30 year warranty and can be installed with a white surface to increase reflectance and energy conservation. Derbigum has been successfully used with photovoltaic panels and has products to ensure that using solar energy can be in your future with a leak free roof.
Call Leak Solutions at (205) 222-2286 for an excellent installation, an excellent guarantee, and a trouble free Duro-Last roof.